ARTIST SHEPARD FAIREY UNVEILS NEW SCREEN PRINTS AT THE LA ART SHOW 1/15-19
Artist Shepard Fairey will debut his newest works, a set of four screen prints titled 'Power and Glory' at the upcoming LA Art Show taking place at the LA Convention Center from January 15-19.  Shepard Fairey's works will be on display at the Paul Stolper Gallery booth.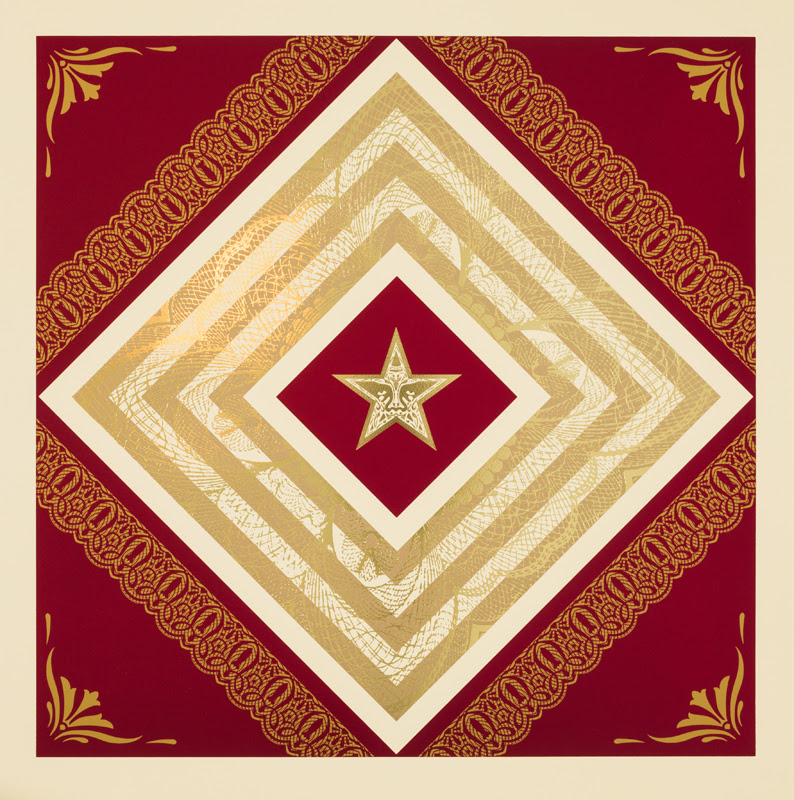 Fairey's newest works continue his investigation into contemporary America.  The genesis for each print is the American Flag, an iconic and potent image that artists such as Jasper Johns's 'Flag' (1954) and Peter Blake's 'Old Glory' (2011) have explored as has Joe Rosenthal's 'Raising the Flag on Iwo Jima' (1945) in photography.  Celebrated, revered, abused, and even burnt the US flag constantly invokes passion on a grand scale. Serving initially as the 'marking of American territory', Adam Goodheart, Prologue of '1861: The Civil War Awakening', it has now also become the calling card of the biggest consumer society in the world.  Its popularity and consequently its Pop Art qualities have not been lost on Fairey who understands but also questions its ubiquitous presence.  Much like advertising the incessant flying of the flag outside homes, stores, and businesses has turned it into a corporate brand identity that Fairey subverts both stylistically and conceptually.
As the design of the US flag, over time, has developed to incorporate more States, so Fairey has graphically dissected the 'Stars and Stripes', and re-configured them into a completely new design, where the single star is the dominant central motif surrounded by seven stripes.  Fairey hijacks the solitary star inserting the Obey motif, itself an international logo that questions authority.  This Torjan horse effect of drawing the viewer in to the image through the use of design and color to then spit back questions of allegiance and ownership are key to Fairey's work, much like Jamie Reid inserting a safety-pin into the lip of the Queen.  The set could just as easily have been titled 'Whose Power and Whose Glory?', since the  piece is equal parts celebratory and cautionary because one person's American dream is another person's American nightmare.
In 'Power and Glory' the richness of design is heightened by Fairey's use, for the first time, of foil-blocking, a method whereby a metallic sheet is debossed onto the sheet of paper, using a metal etched plate, and printed after the silk screening process.  The effect very cleverly mimicking the delicate design of scroll-work found on US monetary notes.
The LA Art Show takes place from January 15 – 19, 2014 concurrently with the Los Angeles Jewelry, Antique & Design Show at the Los Angeles Convention Center, South Hall 1201 Figueroa Street, Los Angeles, CA 90015. For additional information about the Los Angeles Art Show, to register for lectures & book-signings or to purchase online tickets, please visit www.laartshow.com.