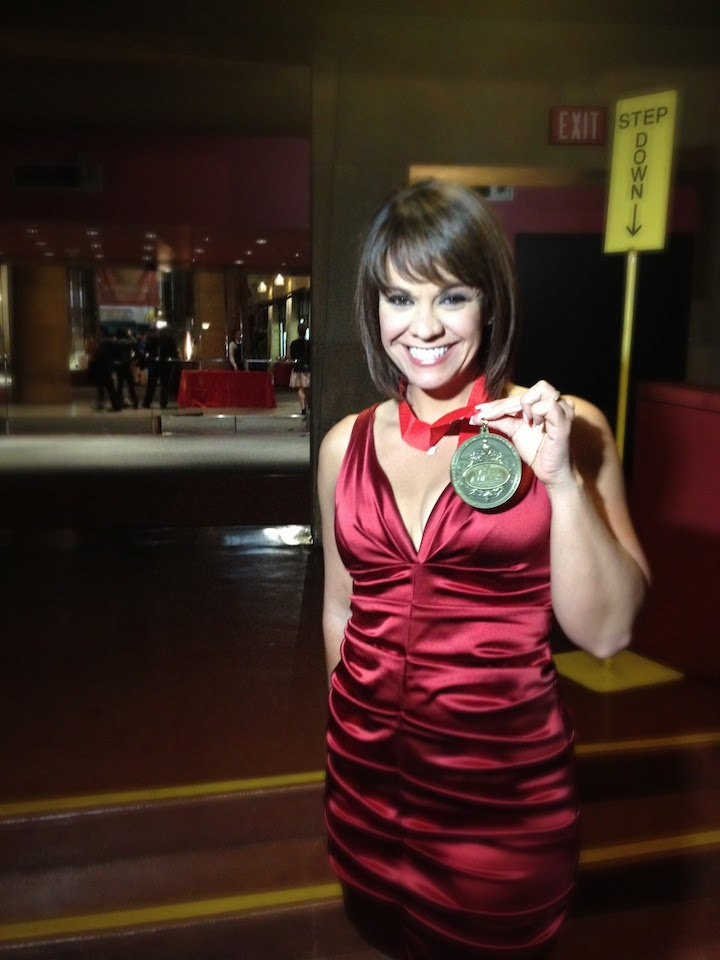 CELEBRATING THE WORLD'S BEST:
A 5TH ANNUAL AWARDS MILESTONE
On behalf of the Organizers of the 5th Annual TASTE AWARDS, we thank all who participated in this year's awards process and event, including the celebrity presenters, judges, partners, sponsors, venues, and of course, the nominees and winners.A special thanks to celebrity awards presenters Alie and Georgia (Cooking Channel, Food Network), Nadia G. (Cooking Channel, Food Network), Bobby Bognar (History Channel, Bio Channel), Susan Irby (ABC Radio), Michelle Harris (ION Life Network), Chef Ashley James (Public Television, Four Seasons), Devin Alexander (Public Television), and Jolene Sugarbaker (YouTube). [Pictured right: Award Winner Ali Vincent]
The events included a Red Carpet reception with Biltmore Estate Sparkling Wine, a pre-awards fashion display by Lauren Elaine, the Awards Ceremony, and an after-awards reception at the Egyptian Theatre in Hollywood.
Winners traveled from across the United States and the Globe to attend the awards on a warm January day in Los Angeles, including from England, Italy, and Israel. See all of the winners, honorees, and nominees below.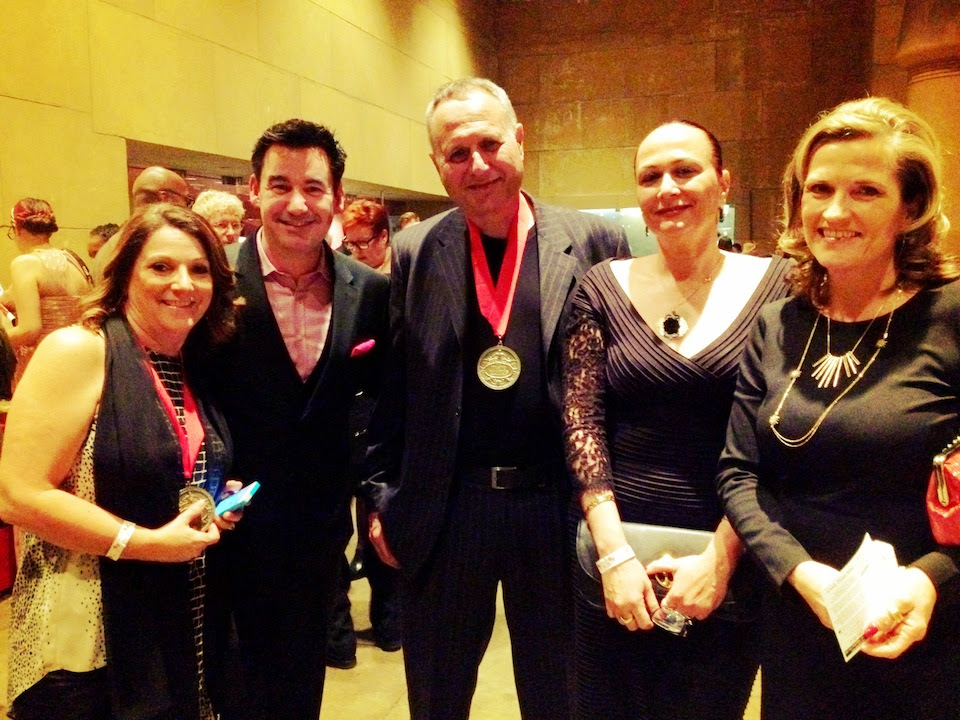 The 
TASTE AWARDS
 are the premier awards celebrating the year's best in Food, Fashion, and Lifestyle programs on Television, in Film, Online, and on Radio. The Awards have included appearances by stars, celebrities, producers and executives from networks and platforms such as the 
Food Network, the Style Network, Bravo, the Cooking Channel, TLC, Discovery, Lifetime, E! Entertainment Television, PBS, NBC, ABC, the CW, HGTV, the Travel Channel, HD Net, Hulu, YouTube, Sony Pictures
, and more.
MEDIA COVERAGE | PARTNERS
MEDIA COVERAGE

Scores of media outlets attended, participated, or covered the TASTE AWARDS, including several Cable and Television Networks with Award Presenters.

See 

Photos on our Facebook

 page (TastyAwards)


UPCOMING TELEVISION SPECIAL

Selected award web and film winners and nominees will be invited to be part of a "Best of Taste" television special, which will feature their award winning work. This 4-part special will be broadcast initially on Public Television in the San Francisco Bay Area (Northern California), with possible national distribution.

VIP GIFT BAGS & AFTER-AWARDS

VIP & Celebrity Gifts Bags included finds fromKikkoman, EcoGenics, Sella, Krave, Harvest Snaps, Toffee Talk, Setton Farms Pistachio Chewy Bites, COGNOSCENTI perfume, House of Matriarch perfume, Serendipity Confections, Zojirushi, and Morinaga Organic Silken Tofu. (stay tuned for upcoming TasteTV feature on the VIP Gift Bags and food & wine)

The after-reception featured delicacies

 from 

Schiltz Foods smoked roast goose, Olli Salumeria prosciutto, Rosa D'oro wine, R&B Cellars, Twisted Roots wine, Alquimia Tequila, Bossy Wife & Co., Marco Paolo Chocolates, Krave jerky, New Orleans Bill gourmet potato salad, Citron Catering, and Amella Caramels

.Special volunteers were provided by 

Le Cordon Bleu of Los Angeles.

(Above: The Bossy Wife & Co.)

 

Other Media outlets included:

– Intermezzo Magazine

– The New York Times

– Haute Living Magazine

– Splash Magazines Worldwide

– Buzzine.com

– Drink Me

– BlackboardEats

– Candy Industry Magazine

– Latino Weekly Review

– Maryamtalkradio.com

– Gev Magazine

– New Tang Dynasty TV (NTD)

– Mark Cuban's AXS TV

– Examiner.com

– Neon Tommy

– Hollywood Beat

– Family Life Magazine

– Entertainment Hollywood blog

– Mail online and NY Daily News

– The Beverly Hills Times Magazine

– Press Line Photos

– The Dish on KiisFM, MyFM, Kost and Hot92

– Channel 7, Sweden (TV7)

– The Minty / LA Cocktails

– Guest of a Guest

– GoCurvy TV

– Hollyscoop

– Back at Cafe Du Monde

– LA Beat

– Ed Magik TV, Entertainment News

– Heritage Radio Network, WORD OF MOUTH with Leiti Hsu.

– IN Hollywood Magazine

– Cuisine Noir Magazine

– TasteTV

(Above: Schiltz Foods Roast Goose)

(Above: Award Winner from FOX Television's "MasterChef Junior")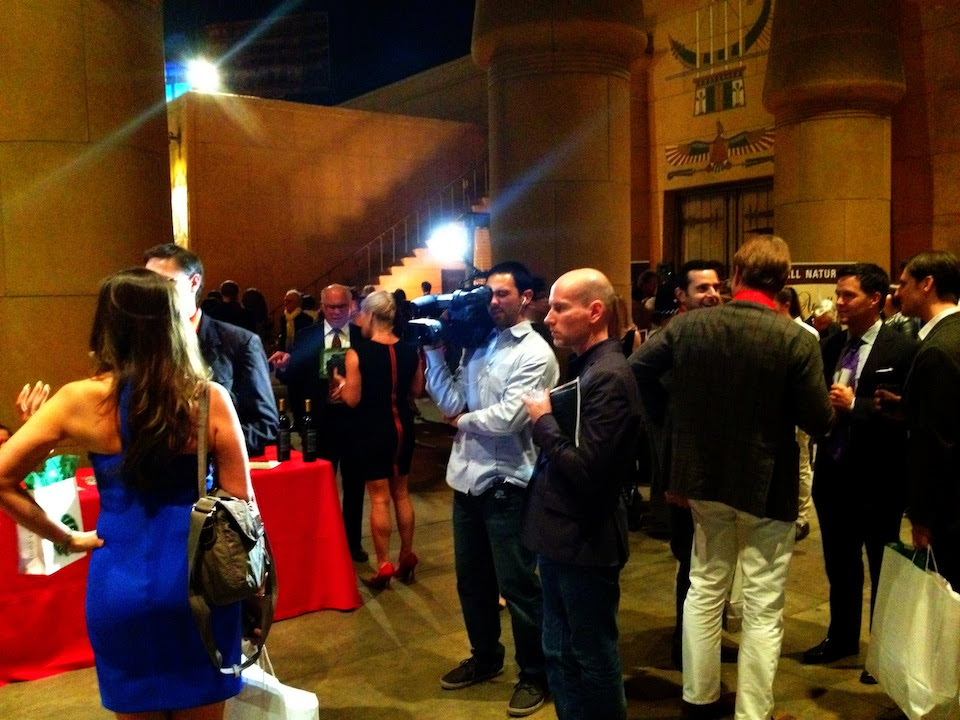 Lifetime Achievement Award: Emeril Lagasse
Pioneer Award: Great Chefs, Oishinbo
Kikkoman Breakout Foodies of the Year: The Mind of a Chef (Public Television), Dark Rye (Whole Foods), YumSugar/PopSugar, Zagat on YouTube, Chat Chow TV
Breakout Fashionistas of the Year: The Fashion Fund (Ovation), House of Curves (We TV), "This Must Be The Only Fantasy" Rodarte & Todd Cole (the Creators Project)
Breakout Storytellers of the Year: The Getaway (Esquire Network), Parts Unknown (CNN)
Outstanding Vision: Tanya Holland, Nathan Lyon
Outstanding Passion: Elettra's GOODNESS (Vogue), Jazzy Vegetarian (Public Television)
Outstanding Inspiration: Food & Spirituality Series (KQED), Live Big with Ali Vincent (Live Well)
Entertainer of the Year: James Cunningham, Martha Stewart
Guilty Addiction of the Year: Michelle Phan (YouTube), The Braiser, Liquid Alchemy (The Art of Baileys Chocolat Luxe)
Spotlight Award: Mariel Hemingway's 'Running from Crazy' by Barbara Kopple, 'Best Fish Tacos in Ensenada' by Director Gabriel Taraboulsy (Delicious Cinema), 'Miu Miu – Mistress of all She Surveys' (Dazed Digital), 'Fresh Fruit' by Diane Busuttil, Soul of a Banquet (Wayne Wang), Caesars Palace Bacchanal Buffet – Travis Wall
Outstanding Mobile Apps: Every Day is a Food Holiday (Food Network), Tastemade (Tastemade)
Outstanding Kids Award: Cool Kids Cook (Kid Chef Eliana), MasterChef Junior (Fox), La Cuoca Girovaga by Chef Rosanna Marziale, Edible Animations by Children's Museum of the Art
Person of the Year: To Be Announced Dec. 3rd
Outstanding Animated Feature: Cloudy with a Chance of Meatballs 2 (Sony)
Outstanding Animated Short: Mademoiselle – Inside CHANEL
Outstanding Technology Innovation: Kickstarter, IndieGoGo, The Sugar Lab
HALL OF FAME INDUCTEES

Alice Waters
Alton Brown
Andrew Zimmern
Anthony Bourdain
Arthur Schwartz the Food Maven
Average Betty
Check Please: Chicago / Bay Area
Chow.com
Dining Around with Gene Burns
Emeril Lagasse
Food Wishes
Heidi Klum

Joanne Weir
Julia Child
Michael Kors
Oishinbo – anime
Project Runway
Raising the Bar with Jamie Boudreau
Ratatouille (film)
Rick Bayless
Top Chef
Tyra Banks
What Not to Wear
Zane Lamprey
GENERAL COMPETITION AWARD WINNERS
Balcones Distilling
Bartending Basics
Better Cocktails at Home
Kathy Casey's Liquid Kitchen®
Raising the Bar with Jamie Boudreau
The Proper Pour with Charlotte Voisey
Thirsty For…

Barefoot Contessa: Back to Basics
Chopped
Diners, Drive-Ins and Dives
Iron Chef America
Top Chef
Top Chef Masters

Barefoot Contessa: Back to Basics
Chopped
Food Network Star
Iron Chef America
Top Chef
Without Borders

Gas Rush Stories: An Organic Farmer
Gotham Greens
Jazzy Vegetarian
P. Allen Smith's Garden Home
The Better Show /earth Day 2013
The Healthy Voyager

Cake Boss
Million Dollar Listing Los Angeles
Million Dollar Listing New York
Say Yes to the Dress: Atlanta
Without Borders
Zagat on YouTube

BEST BRANDED PROGRAM

Average Betty
Jazzy Vegetarian
Life & Thyme, an online magazine about food culture.
P. Allen Smith's Garden To Table
Sweet Retreats
Zagat on YouTube

BEST NEW SERIES

Bizarre Bites
Cutthroat Kitchen
Eat Pack Go talks food with Chef Mario Batali
Moveable Feast with Fine Cooking
Sweet Retreats
Tripping Out with Alie & Georgia

BEST CHEF IN A SERIES

Brunch @ Bobby's
Giada at Home
Joanne Weir's Cooking Confidence
Mexico: One Plate at a Time with Rick Bayless
New Scandinavian Cooking
Top Chef Masters episode "Grand Canyon Cookout"

BEST NEWSPAPER OR MAGAZINE PROGRAM

Life & Thyme, an online magazine about food culture.
Sisters return to family farm and reinvent it

BEST BRANDED VIDEO PROMOTION OR CAMPAIGN

Bruichladdich 2013
First Drink of the Night: Jennifer Colliau"Client:  Tanqueray Gin, as part of the ongoing "First Drink of the Night" web series.
How to survive a Zombie Apocalypse P. Allen Smith style.
The Old Fashioned, by Ryan Maybee".Client:  Johnnie Walker
The Old Pueblo:  Tucson, AZ"Client: Tanqueray Gin, as part of the 'First Drink of the Night' series.
The Pope of Foam starring Charlie Bamforth, for the University of California "Onward California" Series

BEST BEAUTY PROGRAM

Fashion News Live
Mirror/Mirror
My Awesome Empire" Radio broadcast segment
What Not to Wear

Tripping Out with Alie & Georgia
Moonshiners
How Booze Built America

Diners, Drive-Ins and Dives
Food Markets
Giada in Paradise
Mexico: One Plate at a Time with Rick Bayless
New Scandinavian Cooking
The Great Food Truck Race

Dukes of Melrose
Fashion News Live
Flipping Out
Interior Therapy with Jeff Lewis
It's a Brad, Brad World
Knock It Off!
Mirror/Mirror
Say Yes to the Dress
The Rachel Zoe Project
What Not to Wear

Dukes of Melrose
Flipping Out
Interior Therapy with Jeff Lewis
It's a Brad, Brad World
Say Yes to the Dress: Atlanta
Tanked
The Rachel Zoe Project
What Not to Wear

BEST HOME DECOR AND DESIGN PROGRAM, presented by Ferrara Flame

Four Houses
Harpoon House
Knock It Off!
P. Allen Smith's Garden Home
Tanked
Treehouse Masters

BEST SINGLE TOPIC SERIES 

Bizarre Bites
How Booze Built America
Mexico: One Plate at a Time with Rick Bayless
P. Allen Smith's Garden To Table
Raising the Bar with Jamie Boudreau
The Proper Pour with Charlotte Voisey

BEST TRAVEL PROGRAM

Eat Pack Go talks food with Chef Mario Batali
Giada in Paradise: Thailand
Taste Tour
The Healthy Voyager
The Perennial Plate's Real Food World Tour
Tripping Out with Alie & Georgia

BEST ETHNIC PROGRAM

A World of Sweets
Azalina
Mexico: One Plate at a Time with Rick Bayless
Pati's Mexican Table
Spanglish Cooking with Wanda Colon
Without Borders

BEST FOREIGN LANGUAGE PROGRAM

Food Markets
Miss and Mister Deaf International Miss Deaf International Documentary

BEST HEALTH & FITNESS PROGRAM

Bobby Flay Fit
Live Big with Ali Vincent
Ninja Flex & Control #5 by Angelo Dela Cruz
The Bikini Lifestyles Show
The Healthy Voyager

BEST INTERNATIONAL PROGRAM

Food Markets
MyCupcakeAddiction
New Scandinavian Cooking
Off the Beaten Palate
Street Food Around the World
Wedding Island
VIEWERS CHOICE AWARD WINNERS
BEST FOOD PROGRAM:
WEB

Average Betty
Bobby Flay's Barbecue Addiction
Bravo's Top Chef: Last Chance Kitchen
Chopped After Hours
Ciao Chow
Laura in the Kitchen
Next Iron Chef: Road to Redemption
The Trailer Park Cooking Show With Jolene Sugarbaker

BEST HOME CHEF IN A SERIES

A World of Sweets
Anna O'Steen in Lovely Lady Cakes TV
Average Betty
Baba Ghanoush by Sage Russell
Dish It Out!
FudeHouse
Hilah's Texas Kitchen
Jazzy Vegetarian
Kimberly's Simply Southern
Kin Entertaining
Laura in the Kitchen
Pati's Mexican Table
The Trailer Park Cooking Show With Jolene Sugarbaker

"OFFICIAL SELECTION": BEST FEATURE-LENGTH FILM OR DOCUMENTARY40+ MINUTES

Cloudy with a Chance of Meatballs 2
Final Recipe
Mademoiselle C.
More than Honey
SOMM
Spinning Plates
Tasting Menu

BEST FOOD TRAVEL SERIES:
WEB

A World of Sweets
Eat Pack Go talks food with Chef Mario Batali
Life & Thyme, an online magazine about food culture.
Off the Beaten Palate
Taste Tour
The Healthy Voyager
The Perennial Plate's Real Food World Tour
Without Borders

BEST FASHION OR DESIGN: WEB PROGRAM OR VIDEO

"My Awesome Empire" radio feature
Cool Hunting
Fashion News Live
Fashion TV
The Sartorialist – AOL On
Urban Hippie




"OFFICIAL SELECTION": BEST SHORT FILM OR DOCUMENTARY 

10-40 MINUTES

Bettina Rheims
Fäviken
From Cheesecake to Cheesecake: The Joy Harmon Story
Miss and Mister Deaf International Miss Deaf International Documentary
Once Upon a Time
Sugar Shack (A Documentary)

BEST FOOD OR DRINK RADIO BROADCAST

Bite and Booze Radio Show
Cool Kids Cook
Food & Wine with Chef Jamie Gwen
Good Food with Evan Kleiman
Dining Around with Joel Riddell
Slow Living Radio
The Bikini Lifestyles Show
The Drive with Steve Jaxon's "Wine Wednesday"
What's Cookin' Today

BEST COMEDY

By the Fireside with Larry
Cooking with Bee
Dish It Out!
Eat Now, Cry Later
Served with a Twist
The 3 Julias on 30a Television
The Trailer Park Cooking Show With Jolene Sugarbaker
Tripping Out with Alie & Georgia

"OFFICIAL SELECTION": BEST MINI FILM OR DOCUMENTARY
5-10 MINUTES

A Bout De Vin
Balcones Distilling
Bicycle Bread Company
Electric Coffee Company
Gas Rush Stories: An Organic Farmer
Gotham Greens
How to Zest Citrus
The Art & Science of Beer, with the Charlie "The Pope of Foam" Bamforth
The Perennial Plate's Real Food World Tour
Tomorrow Somewhere New
CRAFT CATEGORY AWARD WINNERS | THE GREAT TASTE PRIZE LISTS
Craft: Best Producer

Betsy Carson
Rocco Leo Gaglioti
Dave Shelton
Colin Kimball
Paul Swensen
Ryan French
Anne Fox & Giada De Laurentiis

Great Taste Prize: Hollywood Tastemakers (f)

HONOREES

Ashley Greene
Ashley Madekwe
Kate Bosworth
Mindy Kaling
Elizabeth Banks
Naomie Harris
Naya Rivera
Kat Graham
Lea Michele
Elisabeth Moss
Shaun Robinson
Alice Eve
Christiane Seidel
Krysten Ritter
Becca Tobin
Brenda Song

Craft: Best Director

Brooke Johnson
Celia Sin-Tien Cheng
Sara Bravo
Colin Kimball
Jan-Erik Lustig
Dan Fox

Great Taste Prize: Hollywood Tastemakers (m)

Ian Somerhalder
Andy Samberg
Don Cheadle
Zachary Quinto
Daymond John
Tom Bergeron
RuPaul
Alex O'Loughlin
Jon Favreau
Dwayne Johnson
Harry Lennix
Fabio Viviani
Idris Elba
Joseph Gordon-Levitt
John Cho

Craft: Best Host

Ina Garten
Bobby Flay
Ted Allen
Alton Brown
Guy Fieri
Giada De Laurentiis

Great Taste Prize:

Young

Tastemakers

 

HONOREES


 

Jaden Smith
Chloé Grace Moretz
Dakota Fanning
Sarah Hyland
Maia Mitchell
Olivia Holt
Peyton List
Bella Thorne
India Eisley
Hailee Steinfeld
Victoria Justice
Karan Bar
Rico Rodriguez
Debby Ryan

Craft: Best Stylist

Lori Allen
Clinton Kelly & Stacy London

 

 

 

 

Great Taste Prize: 

Kikkoman Culinary Tastemakers

 

HONOREES


Artesano – SF Bay Area
Bluestem Brasserie – SF Bay Area
The Bossy Wife & Co. – LA Area
Citron Catering – LA Area
New Orleans Bill
Marco Paola Chocolate – LA Area
Amella Caramels – LA Area
THANK YOU TO ALL OF OUR PARTNERS AND SPONSORS